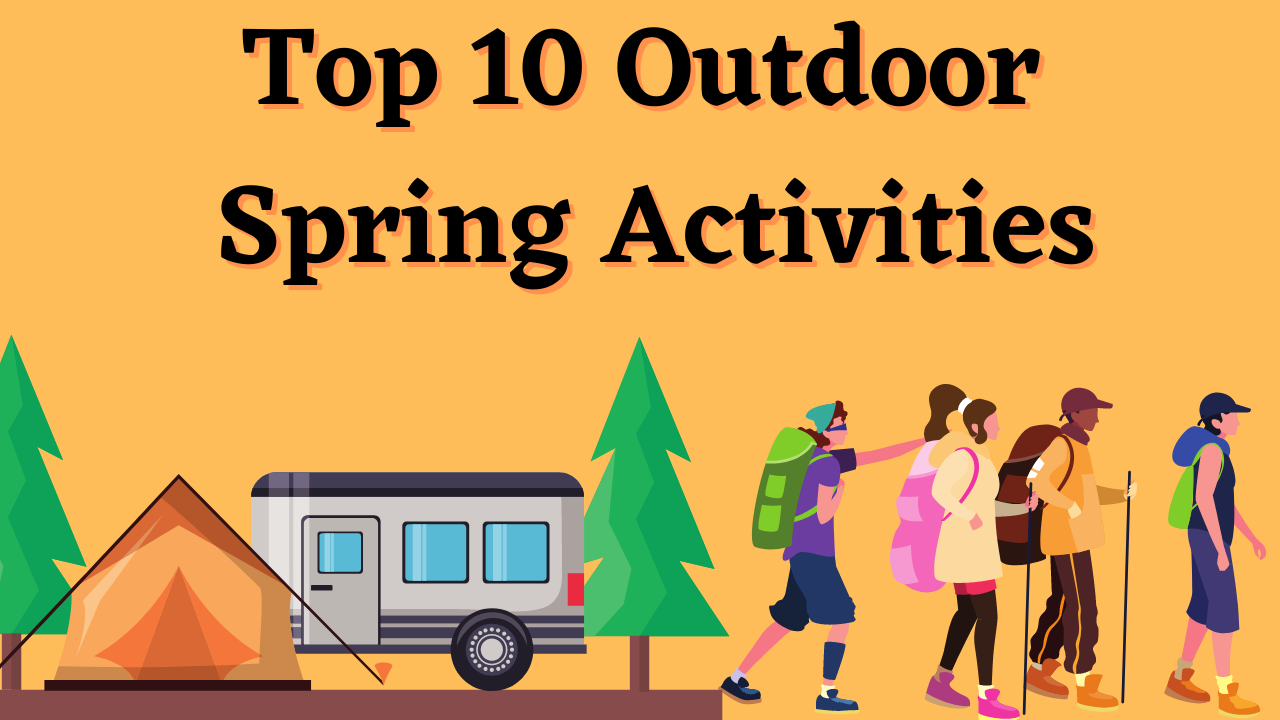 Are you looking for spring activities for kids? Spring break is a time when you can enjoy various fun outdoor activities that create precious family memories. Many great ideas will keep your whole family entertained as you bond with your kids while they still think it's a cool thing to hang out together. After the long cold winter, it would be nice to get out there and soak up the pleasant weather and celebrate spring.
Here are some spring activities for kids to have a splendid time during spring break.
Go Camping
Although the weather might still be a little chilly at this time in some parts, camping is a great idea. Kids enjoy the real-life adventure that the woods offer, so grab a tent, pack your bags, and set out to camp. You will need proper camping gear, including sleeping bags and other camping equipment, to make this possible.
You do not necessarily have to leave the confines of your compound to camp as you can do it in your backyard. Camping itself provides many spring activities for kids. It can be fun setting up a tent together, sleeping outdoors, and cooking outdoors. You will get the feeling of being away from home without the stress of traveling.
Go Sailing
Spring break is not a perfect time for the beach as the weather is not yet warm enough. However, if your family enjoys anything to do with water, then you can take a sailboat and sail to the horizon. It would be a perfect opportunity for your kids to have fun fishing and playing while the adults relax in the cool breeze and sunshine. You could bring some friends with you and spend your day barbequing and playing games.
Take a Road Trip
Road trips are always fun as you get to visit various cities while making stops for sightseeing. It is a budget-friendly family activity since you do not have to book expensive hotels to have a fabulous weekend away from home. Your kids will enjoy visiting new places, and you may as well take them to some famous places such as historical sites on the way.
Have a Picnic
Spring is a time when the outdoors are lush green, and you will enjoy playing and spending time on the grass fields. You can plan for a family picnic either in the park or elsewhere appropriate to enjoy eating and drinking while playing all kinds of outdoor games. As a parent, you can take this time to engross yourself in your favourite book while the kids enjoy playing around.
Treasure Hunting
All kids love treasure hunts where they compete to solve riddles, and they are pretty easy to set up. You only need to set aside one evening and get creative with clues while hiding things as they sleep. Have prizes and sweet treats for them when they solve the mystery to make the hunt worth their time. You can encourage them to have some friends over so that the game can be more fun.
Gardening
Home gardening is usually not done during the cold winter months, and spring is a perfect time to set up a garden if you want to have it all summer long. You can get creative on how you want to use or improve your outdoor space. You can choose to plant fruits and vegetables or privacy bushes, flowers, and shrubs in your backyard. Involve your kids in selecting the flowers to grow and teach them how to take care of the garden.
Bike Riding
Family bike riding can be a great pastime during summer if your family like sports. It is a great way to exercise and be outside together while your kids try out their new biking skills. Biking, just like hiking, can be easy or challenging depending on whether you choose to go for road biking or mountain biking along the trails. Make sure to have additional clothing and equipment if you ride in the chilly spring weather.
Go Hiking
Hiking can be a wonderful experience as your kids will enjoy seeing different plants and creatures while they savour breathtaking sceneries. It requires little equipment, but you need to wear proper hiking shoes and a backpack for the necessities. Just like biking, you will get a good workout. Pick a family-friendly trail that you are sure your kids will manage, and always let someone know where you are heading, and the time you expect to return.
Make a Splash in the rain
Have fun in the spring rain showers to the fullest by putting on your rain gear and heading out to play in the puddles. Make mud pies, see who makes the biggest splash, get dirty and revel in the boggy mess. You can have much fun in the rain, like singing, making boats from recycled items, and collecting the rain in different containers to produce different sounds. It may seem childish, but your kids will have a wonderful time sharing the experience with you.
Fly a Kite
The spring winds are great for kite flying in the park or open fields with no trees or power lines nearby. Kids love kites, and even when the wind is not favourable for the kites to fly, you will still find them having fun trying to get them to go up. You can combine this with other activities like creating a windsock, pinwheel or weather vane to catch the wind, and your kids will learn more about the wind.
Spring break is a time with lots of fun activities, and you only need to be creative enough to find something exciting to do. Much of the action takes place outside as the weather is perfect, and people are tired of the restrictions that come with winter. However, you can make good use of your time at home or in the neighborhood if you don't feel like venturing to distant place to have fun. The kind of fun you decide to have depends on your budget and flexibility.
Learn More About Budgeting with the CashFurther Community
We hope you enjoyed reading this article about spring activities for kids. Many of these activites are perfect if you are on a budget. If you're looking for more ways to save money, consider joining the CashFurther Community.
Members receive exclusive access to helpful content-packed emails, a private Facebook group, online educational events, and more – all for FREE! Join today.