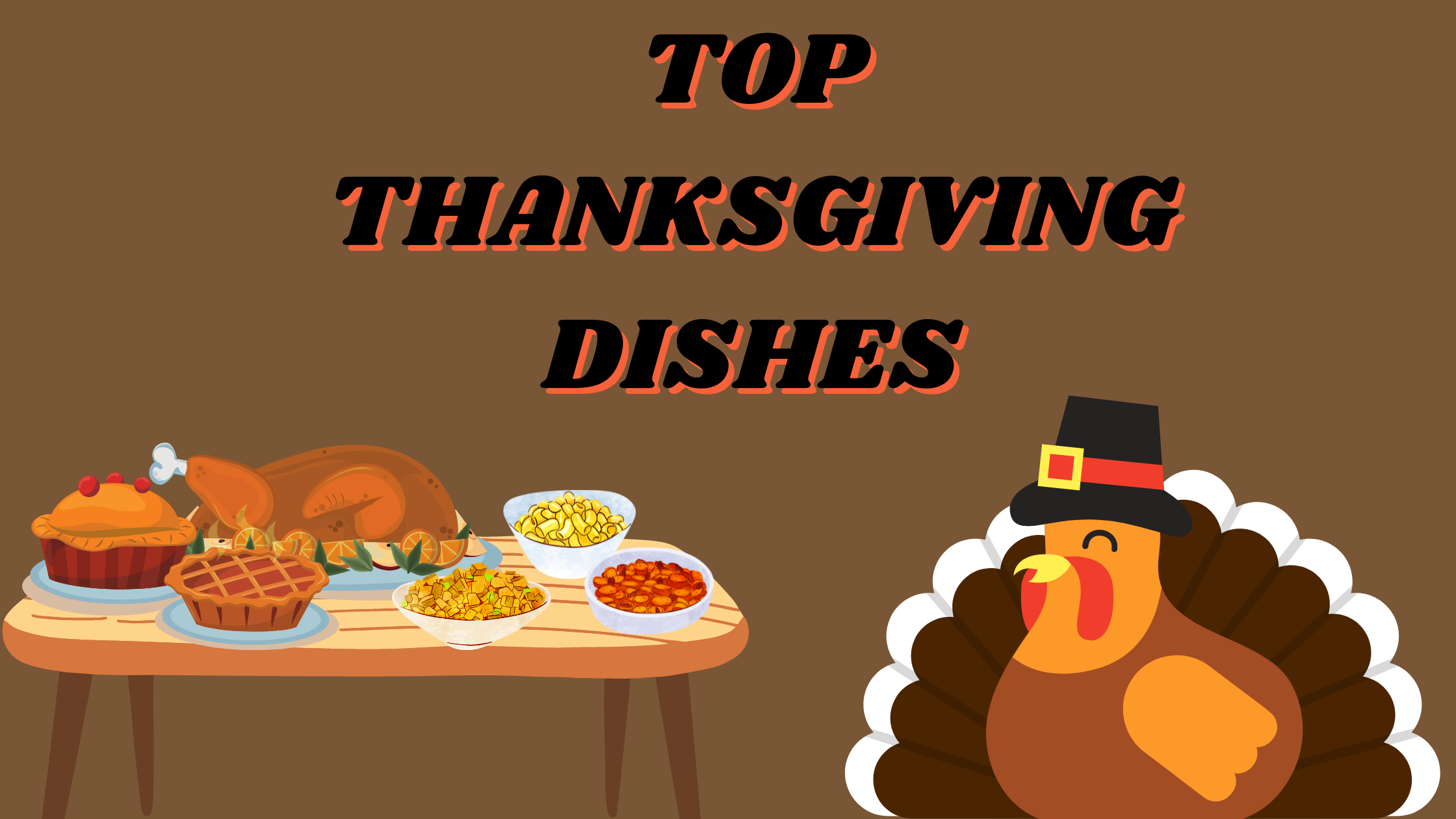 Thanksgiving is fastly approaching. We're looking forward to the food we'll devour during our annual dinner. From scrumptious turkey to decadent pies, Thanksgiving brings all the goodies directly to us.
Keep reading to learn about our top ten dishes for the season and the recipes to make them.
1. Turkey
It's a standby for a reason. It's just so darn good. This turkey recipe is sure to make everyone at your table wanting seconds. Just remember to use fresh herbs for the best culinary experience!
Ingredients
– 12-14 Pound Turkey, giblets discarded and neck to the side
– 2 Sprigs plus 1 Tbsp. Chopped Thyme
– 2 Sprigs plus 1 Tbsp. Chopped Sage
– 6 Tbsp. Unsalted, Room Temperature Butter
– 2 Carrots, Halved
– 2 Celery Ribs, Halved
– 1 Onion, Quartered
Directions
– Preheat Oven to 350. The key to a great turkey is longer roasting at a lower temperature.
– Combine butter and chopped herbs in a bowl. Add salt and pepper as you see fit.
– Place veggies and herb sprigs at the bottom of a roasting pan with 2 cups of water; top with roasting rack.
– Rub butter mixture underneath the breast skin; season turkey and cavity with salt and pepper; place on roasting rack and tie the bird's legs, folding wings under; place in oven.
– Baste every 30 minutes, adding more water if vegetables begin to burn.
– Remove turkey when thermometer reads 165 when inserted in the thickest part of the thigh; place chicken on counter or platter to rest for 30 minutes, saving cavity juices, turkey neck and any drippings in bowl for gravy.
2. Gravy
No Thanksgiving meal is complete without gravy, and this one is sure to become a favorite!
Ingredients
– Turkey Drippings
– Turkey neck
– ½ c. White Wine or Chicken Stock
– 4 c. Chicken Stock
– ¼ c. Flour
– Salt and Pepper
– 1 tsp. Thyme
– 1 tsp. Sage
Directions
– Place neck and drippings in a sauce pan; cook until thickened and brown.
– Add wine or chicken stock; cook for 6-8 minutes until syrupy
– Add flour and fresh herbs; stir 30 seconds.
– Slowly add chicken stock; allow to thicken, stirring often for roughly 15 minutes.
3. Candied Yams
Who doesn't love the world's most delectable side dish? These candied yams are perfect for picky eaters as well as those who just want a sweet treat.
Ingredients
– 1 (29 oz) can of Sweet Potatoes
– ¼ c. Butter
– ½ c. Brown Sugar
– 1 ½ c. Mini Marshmallows
Directions
– Preheat oven to 400 degrees
– Drain sweet potatoes; place in baking dish; place butter evenly on top of sweet potatoes; sprinkle with brown sugar; place marshmallows on top.
– Bake for 25 minutes; Sweet potatoes will be tender and marshmallows melted.
4. Stuffing
While we don't recommend putting stuffing in your bird, you're more than welcome to! This recipe is easy, breezy, and yummy.
Ingredients
– 1 ½ Loaves of French Bread (day old)
– 3 c. Chicken Stock
– 2 Sticks of Butter
– 1 Onion
– 4 Celery Stalks
– 1 ½ Tbsp. Poultry Seasoning
– 1 Tbsp. Fresh Oregano
– 2 tsp. Fresh Rosemary
– Salt and Pepper to Taste
Directions
– Cut bread the day before; store in paper bags.
– Preheat oven to 350 degrees; Grease casserole dish with softened butter.
– Dice onion and celery.
– Melt butter in saucepan; add diced veggies; cook veggies for 8-10 minutes; add spices and stir over low heat until spices and herbs become fragrant.
– Add 2 cups of stock to pan; heat for one minute; remove pan from heat.
– Place bread in mixing bowl; add stock/butter mixture in one cup at a time.
– Add additional stock as needed.
– Place in casserole dish; bake for 30 minutes with foil on top; remove foil and bake an additional 30 minutes.

5. Green Bean Casserole
This is by far the easiest recipe on our list, but that doesn't mean your guests won't be impressed!
Ingredients
– 4 (14.5 oz) cans of Cut Green Beans, drained (do not get the French cut green beans!)
– 2 (14 oz) cans of Cream of Mushroom Soup
– 1 Can of French's Fried Onions
Directions
– Preheat oven to 350 degrees
– Mix green beans, soup and 2/3 of a can of fried onions; Place in baking dish; bake for 45 minutes; add remaining onions and bake an additional 5 minutes.
6. Cranberry Sauce
We know the stuff you get out of the can is great, but trust us when we say homemade is SO much better. You'll want this all year long.
Ingredients
– 1 lb. Fresh Cranberries
– 2 c. Water
– 2 c. Sugar
Directions
– Heat water and sugar until boiling; allow to boil for an additional five minutes, stirring occasionally to prevent burning.
– Stir in cranberries; boil for 5 minutes (cranberries will begin to pop); place in serving dish and cool for at least three hours.
7. Mashed Potatoes
Is any Thanksgiving complete if it doesn't have mashed potatoes? We don't think so either. Trust us when we say these potatoes are heavenly.
Ingredients
– 3 Pounds of Potatoes, peeled and quartered
– 1 Tbsp. Salt
– 4 Tbsp. Unsalted Butter
– ½ c. Cream
– Pepper to Taste
Directions
– Place potatoes and a tsp of salt in a pot; cover with water; bring to a boil and allow to gently boil for 20-25 minutes, or until potatoes are tender; Drain.
– Place potatoes back in the pot and let sit for up to two minutes to remove moisture.
– Mash potatoes to the consistency you like; add remaining ingredients; mash ingredients together, adding more cream as you see fit.
8. Yorkshire Pudding
Okay, we know this comes from our British cousins, but trust us when we say these rolls are so much better for Thanksgiving.
Ingredients
– 3 Eggs
– 1 c. Milk
– 1 c. Flour
– 2 Tbsp. Butter
Directions
– Preheat oven to 375 degrees.
– Beat eggs and milk together; add flour; set aside
– Butter a muffin tin with roughly ½ tsp. of butter per cup by placing butter in tin and melting in hot oven; add batter to cups.
– Bake in oven for 5 minutes; reduce heat to 350 and bake an additional 25 minutes.
9. Brussels Sprouts
The time to hate brussels sprouts is long gone, and these delicious little morsels will quickly become a staple in most households.
Ingredients
– 1 Tbsp Butter
– 2 tsp. Olive Oil
– 24 Brussels Sprouts, Trimmed and Thinly Sliced
– 2 Tbsp. Lemon Juice
– Salt and Pepper to Taste
Directions
– Heat butter and olive oil in a sauté pan over high heat for 1-2 minutes.
– Add Brussels Sprouts and lemon juice into butter/olive oil mixture; stir constantly until sprouts start to soften, usually about a minute.
– Season with salt and pepper and serve.

10. Pumpkin Pie
No Thanksgiving meal is complete without pumpkin pie, and this recipe is sure to be a standout that makes everyone salivate.
Ingredients
– 1 unbaked pie crust
– 1 Tbsp. Pumpkin Pie Spice
– 1 (14 oz) can Sweetened Condensed Milk
– 1 (16 oz) can Pumpkin Puree
– 2 Eggs
Directions
– Preheat oven to 425 degrees.
– Combine all ingredients, except pie crust, in a bowl and mix thoroughly.
– Place crust in a pie dish; poor pumpkin mixture into crust.
– Bake for 15 minutes; reduce oven to 350 degrees; bake pie an additional 35-40 minutes, placing foil on crust if it begins to burn.
We hope you enjoyed these easy recipes that are sure to make any Thanksgiving the best your family has ever had. With adequate help and some planning, you can easily get this feast on the table with as little work as possible. We hope you have a marvelous Thanksgiving, Happy eating!

Learn More About Budgeting with the CashFurther Community
Members receive exclusive access to helpful content-packed emails, a private Facebook group, online educational events, and more – all for FREE! Join today.