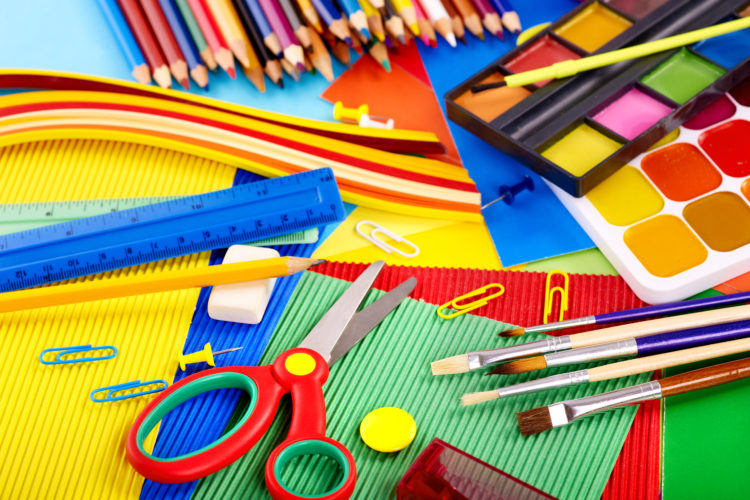 Back to school shopping will soon be upon us, and most wallets are weeping. Let's be honest, sending kids back to school becomes more expensive each year which is why we have compiled the best tips to make school shopping as pain-free for your bank account as possible. From establishing a budget to raiding your home, these are the best tips save money on your school shopping.
1. Inventory What You Need for Back to School Shopping
This is a big one: figure out exactly what your kids need. Most schools will provide you with a back-to-school shopping list so you can figure out exactly what you need for your kids. This is an excellent time to see what each of your kids' needs for class and if there is anything all of them need (e.g., pencils, binders, notebooks). Total everything to get a rough idea of what everything will cost to send the kids back to school.
2. Create a Budget
We all remember being a kid and wanting the super pack of gel pens or the latest Lisa Frank binder, and your kids likely have some frivolous purchases they want to make for the school year as well. Here's where creating a budget comes in handy. Total exactly what you need to spend on essentials and look to see if there is any wiggle room for those extra special school supplies your kids "desperately need." If money is a little tight, tell your kids they can choose one deluxe item and look to see if you can get it on sale. Once you have your budget in mind, stick to it.
3. Look Around The House
As parents, we have a lot of loose crayons, pencils and pens floating around the house. Although there is an emphasis on everything being "new" for the school year, there's nothing wrong with taking the time to shop in your home to see what can be sent to school. From reusing last year's backpack and binders to providing some extra writing instruments, there's nothing wrong with reusing what you already have for this school year.
4. Buy in Bulk
This tip is definitely geared towards people with more than one child, but it also applies to those who may want to go in on school supplies with another parent. Stores like Costco and Sam's Club offer great deals for those looking to buy a large number of school supplies, usually costing significantly less than other retail locations. Whether you have multiple children or want to go in on supplies with a couple friends, buying in bulk can save a lot of money.
5. Use Cash-back, Coupons and Rebates
We love a good rebate app and coupon, and back to school season is the perfect time to rip those items out and start saving large amounts of money. Comb your Sunday paper to find coupons on essentials or look to see if apps like Ibotta are offering rebates on your child's school supplies. You'd be shocked by how many manufacturers are looking to cut prices, especially during the week before school when stores are trying to sell their remaining stock.
6. Compare Prices
It might feel tedious but comparing prices between stores truly can save you hundreds of dollars. Take the time to examine what each store is offering supplies at and make a shopping plan (don't forget online retailers as well). Oftentimes, school supplies can be had for significantly less through certain retailers. Don't be afraid to ask a cashier if a store will price match as well. Many will want to have your business and will match their competitor's price points to give you the best deal.
7. See What You Can Delay
Certain things will need to be purchased before school, but other items can be put off. For example, your child likely doesn't need their winter coat(s) or boots in the summer months. Stores will also discount their children's clothing a few weeks after school starts as well. If you can, wait to take advantage of these sales to get the best deals for your kids and put off buying off-season clothing until you're closer to the months you need them.
8. Look for Exchange Programs
Exchange programs are becoming more and more popular with families across the country. From school uniforms to supplies, many families are looking to donate and swap gently used or unused school supplies and clothing. If you don't have a swap in your area, you can easily create one with some friends and neighbors to ensure your kids all get the school supplies they need for the new year.
9. Look for Sales
From tax-free days to back to school sales, many places are looking to attract as many customers as possible by hosting sales to attract parents. Take advantage of these days to get the most bang for your buck. You can find steep discounts on many common items as well as luxury or major purchases, like computers. In the same vein, also look to see if your local retailers are offering specials on store brands. Oftentimes store brands will be part of the same sale as name brands, leading you to save significant amounts of money.
10. Check Out Discounts for Back to School Shopping
More and more businesses are offering discounts for students, especially when it comes to electronics. All you'll need to do is have your student provide their ID card at checkout. Major brands like Apple, Dell and Hewett Packard offer student discounts as well as major retailers, including Amazon via their Amazon Prime membership for students. If you don't know if a retailer offers a student discount, just ask! Many electronic retailers have college student discounts or specific days for college students to shop.
11. Pad for Surprises
We wish we could say that you can plan for everything, but the truth of the matter is that surprises do sneak up on us. From impulse purchases to items costing slightly more than we expected, sometimes we exceed our budgets. When looking to create your back to school shopping budget, make sure you leave a little wiggle room for surprises that may pop up.
12. Go to the Dollar Store
We've talked about dollar stores before, and back to school shopping is the perfect time to hit up your local Dollar Tree. You can get school staples for $1.00-$1.25 at most locations, with many carrying name brand items that are significantly more at other retailers. Many dollar stores will also offer generic items that work just as well as their counterparts, leading you to save money on a variety of items that would normally cost much more.
Back to school shopping doesn't need to break the bank. By following the above tips, you can save hundreds of dollars this fall. From looking for sales to carefully planning a budget for what you'll spend on supplies, taking the time to shop for school supplies while remaining price-conscious can save you both time and money this school season. Most importantly, enjoy spending time with your kids and creating shopping memories they'll cherish for a lifetime.
Learn More About Budgeting with the CashFurther Community
Members receive exclusive access to helpful content-packed emails, a private Facebook group, online educational events, and more – all for FREE! Join today.