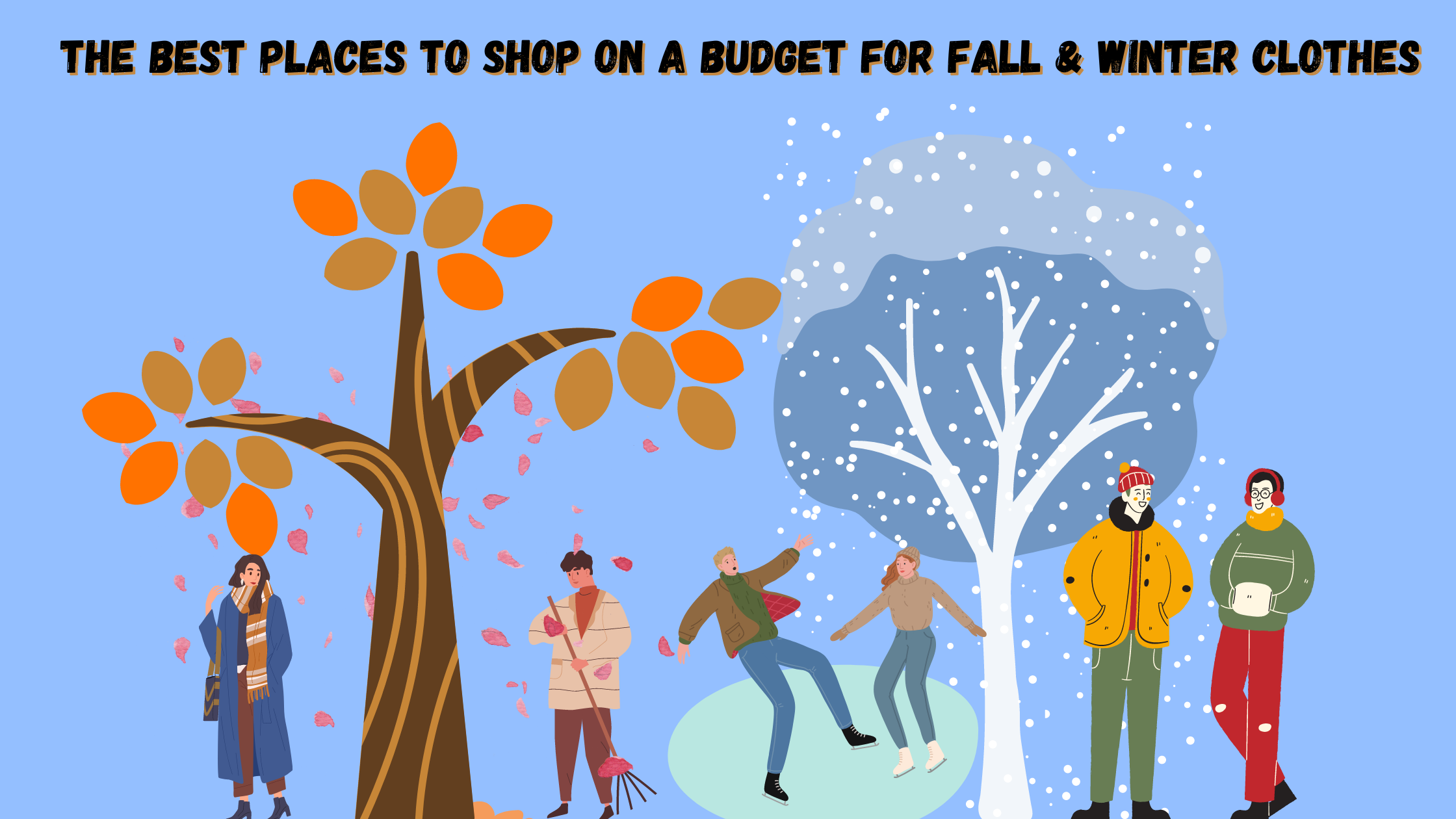 Here are our picks for the Best Places to Shop on a Budget for Fall & Winter Clothes. As we officially head into the colder months, it is time to start planning and preparing for your warmer wardrobe. Most people like to keep up with current trends and add to the selection in their closet with the season's changes. However, everyone knows that keeping up with the latest clothing fashions can be hard on your wallet. Shopping for new clothes is a lot of fun, but if you don't know where to shop, it can also do some serious damage to your bank account.
Luckily, these days there are many options out there that will allow you to keep up with the latest fashions and stay well within your budget. When you find affordable retailers buying your favorite trendy apparel feels a lot more practical!
ASOS
Asos offers customers a wide range of seriously hip fashion at low prices. ASOS is the best place for clothing essentials, including jeans, t-shirts, and simple dresses. They also have a fabulous selection of formal wear at low prices you won't want to pass up!
They offer sizes from petite to plus-size, so everyone will definitely find something they love on the ASOS website. Stylish winter coats, boots you will love, and trendy tops. Tops include sophisticated sweaters, blouses, turtlenecks, and more. You name it, and ASOS is sure to have it!
Mango
Mango's clothing line will give you a high-fashion feel for affordable prices. They offer fabulous sales and deals regularly. You will find unique cuts and fabric combinations that you will love to wear through the fall and winter months.
Amazon Fashion
As with nearly everything else, Amazon offers consumers exceptional deals on the latest styles and trends. They are an excellent choice for trendy clothing, and they refresh their clothing catalog regularly. Spend some time on the Amazon Fashion website, and you will find fashionable clothes you love at unbelievable prices.
There are many budget-friendly choices, and they offer an excellent selection of well-known designers. Another great perk of shopping on the website is the customer reviews. Customers always write detailed and helpful critiques about the sizes and quality of the clothing. As with all of Amazon's merchandise, Prime members get free two-day shipping on most items.
Target
Target has long been a clothing favorite. Over the recent years, they have seriously expanded their styles, sizes, and designer collaborations. Target is a store everyone should check out when they look to update their fall and winter wardrobe and need to stay on a budget.
TJ Maxx
TJ Maxx has been at the top of its game in offering affordable prices for designer clothing for a long time now. You can find anything from designer bags to trendy clothes at a discount, and they consistently provide discounts from 40% to 60% off. TJ Maxx offers an array of styles and trending brand names for women, men, and kids.
Old Navy
If you haven't checked out Old Navy's vast clothing selection lately, you may not recognize the retailer anymore. They work hard to keep up with all the latest trends and fashions. The thing that will never change about Old Navy is their excellent low pricing!
You can find all sizes ranging from petite to plus-sized, and many fashions and styles. They are also almost always offering discounts on top of their already low price tags.
ROSEGAL
ROSEGAL offers customers the latest fashion and trends at affordable prices that you will love. If vintage-style clothing is your forte, you will fall in love with their apparel. They have a vast vintage selection and offer a wide range of sizes.
ROSEGAL is especially popular for its selection of plus-size clothing and a wide selection of clothing at affordable pricing. The online retailer offers choices in women, men, and children's clothing and accessories.
6pm Online Shopping Company
6pm is an online low-cost footwear retailer. They also offer a limited clothing and accessory selection. However, you will find amazing deals on a wide range of heals, tennis shoes, and sandals.
6pm is the sister site of Zappos, and you can find great shoes at a discount that didn't sell at a much higher price. They also offer speedy shipping on purchases! You will find name brands at fabulous discounts from COACH, J. Crew, Bebe, Nike, and more.
H&M
H&M has all your favorite stylish winter essentials. They have a vast selection of outerwear, sweaters, turtlenecks, and cute blouses. The most exciting part is that their clothing, shoes, and accessories are affordable and won't break your budget.
LuLu's
Lulu's offers a wide range of affordable formal attire, pretty dresses, and adorable separates that anyone looking for trendy deals should check out. You can browse all the latest trends without spending a lot of money. They offer all the latest styles in work attire, from dresses and skirts to sleek blouses.
DressLily
DressLily is another great retailer for affordable and stylish fashion, and they offer the latest trends in every style. They always provide amazing discounts plus additional discounts to new customers.
Whether you are into gothic styles or a fitness buff, you will find things you like. Stop by the DressLily website to find the latest fashions and at prices, you can afford. Not to mention the latest chic crazes that will make you look like a fashionista!
Uniqlo
Uniqlo has all the stylish and unique clothes you need to keep you cozy and warm through even the coldest winter months. They combine simplicity with sophistication and produce quality attire.
Uniqlo provides trendy layer pieces and comfortable, warm sweaters that you will love. You will definitely find clothes you love at prices you can afford.
Kohl's
Kohl's is an enormous department store where you can find excellent prices for blouses, skirts, jeans, shoes, and so much more. Kohl's also has a great clearance section that you must check out on every visit.
Kohl's offers stylish department store clothes at crazy low prices. You can fill your closet with outfits, shoes, boots, jackets, and coats that you will love wearing all winter long.
Stylish fall and winter clothing and accessories can be costly, so it's important to stay on the lookout for affordable alternatives. The bottom line is, you don't have to be rich to stay fashionable this fall and winter. There are plenty of options for retailers that offer all the latest fashions and trends at cheap prices you can afford.
Learn More About Budgeting with the CashFurther Community
Members receive exclusive access to helpful content-packed emails, a private Facebook group, online educational events, and more – all for FREE! Join today.