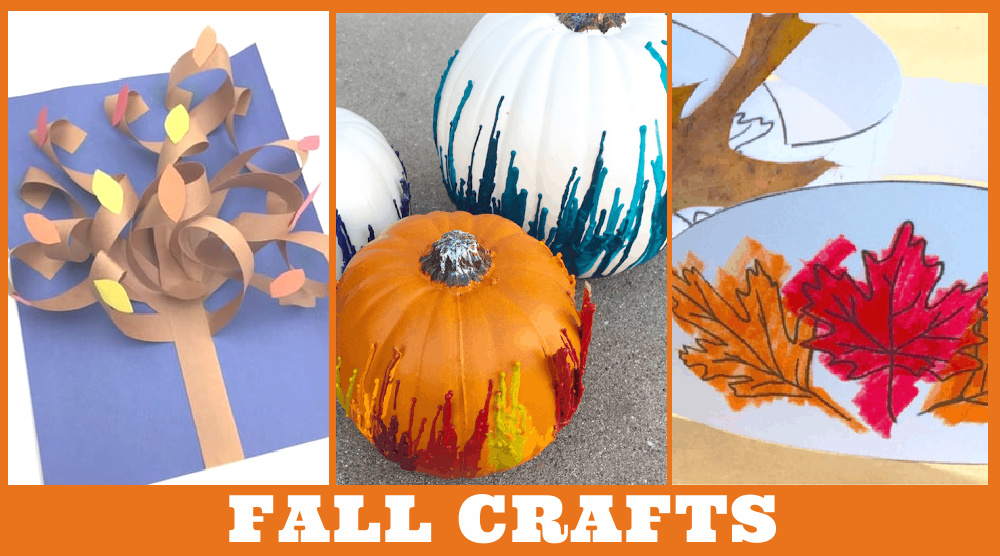 Spend some time making budget-friendly crafts for fall that are easy on your wallet. Decorate your home and make exciting costumes with the whole family! Simple and easy instructions make spending time crafting a breeze. From beautiful fall lanterns your kids will love to DIY gifts for your friends and family, this fall will be the craftiest of them all.
Ditch the DIY crafts with long lists of expensive items to buy. These Budget-Friendly Crafts for Fall have 5 components or less each and are inexpensive to purchase. With these ideas, cheap doesn't mean tacky or clunky. Each one of these fall crafts is fun, fabulous, and easy to make. Try making these budget-friendly crafts for fall with your friends, family, or co-workers!
Nothing says fall like leaves and warm light. This project is simple, easy, and ecological. All you need are a couple of cheap items from your local dollar store and some fall leaves. It's impossible to mess up and a great activity to do with kids! Try this idea out for a centerpiece on your table or on top of the fireplace.
For this craft you'll need:
A mason jar or vase
Modge Podge
Leaves from outside
A paintbrush
Tealights
Looking for an easy DIY costume? You can easily make this no-sew costume with a few simple items. This versatile craft can be used to make all different types of animal ears for endless possibilities. This costume project can be made with low-cost materials like felt, plastic headbands, and hot glue. Easy enough to make with children and fun!
For this craft you'll need:
Felt
Hot glue
Thin plastic headband
Scissors
Sharpie
If you have kiddos in the house then no doubt you have crayons. Possibly even hundreds of broken crayons, which is perfect because they're exactly what they need for this project! This beautiful way to recycle crayons and decorate for fall is cheap and simple, perfect for everyone. Make rainbows, stick to your favorite shades, or go monochromatic. Try it out this week!
For this craft you'll need:
Pumpkins
Crayons
A hairdryer
Super cute candle holders are just a few steps away! These spooky little mummies are simple and fun to make. An excellent choice for little ones and great for brightening up the house for movie night, these mummies will light up the night. Get ready to spend an afternoon of fun making these little guys and prepare to bask in the glow!
For this craft you'll need:
Mason jars
Large googly eyes
First aid gauze
Tealights
Hot glue
Creating a fun fairy house out of your jack-o-lanterns is a great way to use biodegradable ingredients. For this simple project, all you need is a pumpkin, a carving knife, a tealight, and a good imagination. You can add your own personal style to this craft with paint, flowers, and maybe some glitter too. Create a whole fairy garden with your family this fall!
For this craft you'll need:
Pumpkins
A carving knife
Tealights
Decorations
This craft makes for a great gift for the holidays or a decoration. Transform your old mugs into wonderful candles with your choice of essential oil. You'll be surprised at how easy candle-making can be with a few cheap ingredients from your local craft store and a whole lot of fun. Customize your signature scent and light up your home with candles that will impress your friends!
For this craft you'll need:
Candle wax flakes
Scented oil
Candle wicks
Mugs
A pot
If you or your kiddo need a costume in a hurry, this easy DIY bat costume is the perfect project for you. You can easily put together this costume with simple sewing or alternatively hot glue. Making this costume for the whole family will undoubtedly win any costume contest. Get ready for tons of batty fun and adorable memories!
For this craft you'll need:
1.5 yards of black fabric of your choice
6 inches of elastic
Thick black fabric (or felt)
Hot glue or a needle and thread
Decorate your door with a festive Halloween wreath! You can make it spooky, leafy, or even witchy. It's all up to you and your local dollar store. You'll be amazed at how festive and fun these cost-effective decorations can be. All you have to do is piece them together and you've got a brand new wreath you can use year after year. With easy wreaths like this, everyone can decorate their own!
For this craft you'll need:
A wreath form
A Halloween door sign (or fall-themed)
Garlands
Hot glue
Make your entryway as cute as can be with this adorable wooden entry sign. This craft is cheap to make and can be tailored to your liking as you see fit. Go crazy with paint, ribbon, fabric, and more! This project is great for the whole family. You can each make your own or collaborate on one big sign altogether. Your creation awaits!
For this craft you'll need:
Wood background for the sign
Paint
Hot glue
Lettering template
The decor of your choosing
Enjoy this classy-looking garland that is great for the entire fall season. Great for kids that are able to cut with scissors, this garland will liven up any room. For next to nothing, your entryway, mantle, bookcase, or door frame will look beautiful when you add this finishing touch. Take it a step further and stamp the leaves with fall colors or throw in a bit of synthetic greenery.
For this craft you'll need:
Old books
Cardstock
Elmer's glue
Hot glue
Floral wire
Spending time making crafts this fall is a wonderful way to bond as a family and enjoy decorating together. There's something about making things yourself that provides a sense of accomplishment. Making these crafts will be fun, exciting, and won't break the bank. It's a win-win-win all around. Try your hand at any of these simple and easy projects and you'll have a fall to remember!
Learn More About Budgeting with the CashFurther Community
Members receive exclusive access to helpful content-packed emails, a private Facebook group, online educational events, and more – all for FREE! Join today.