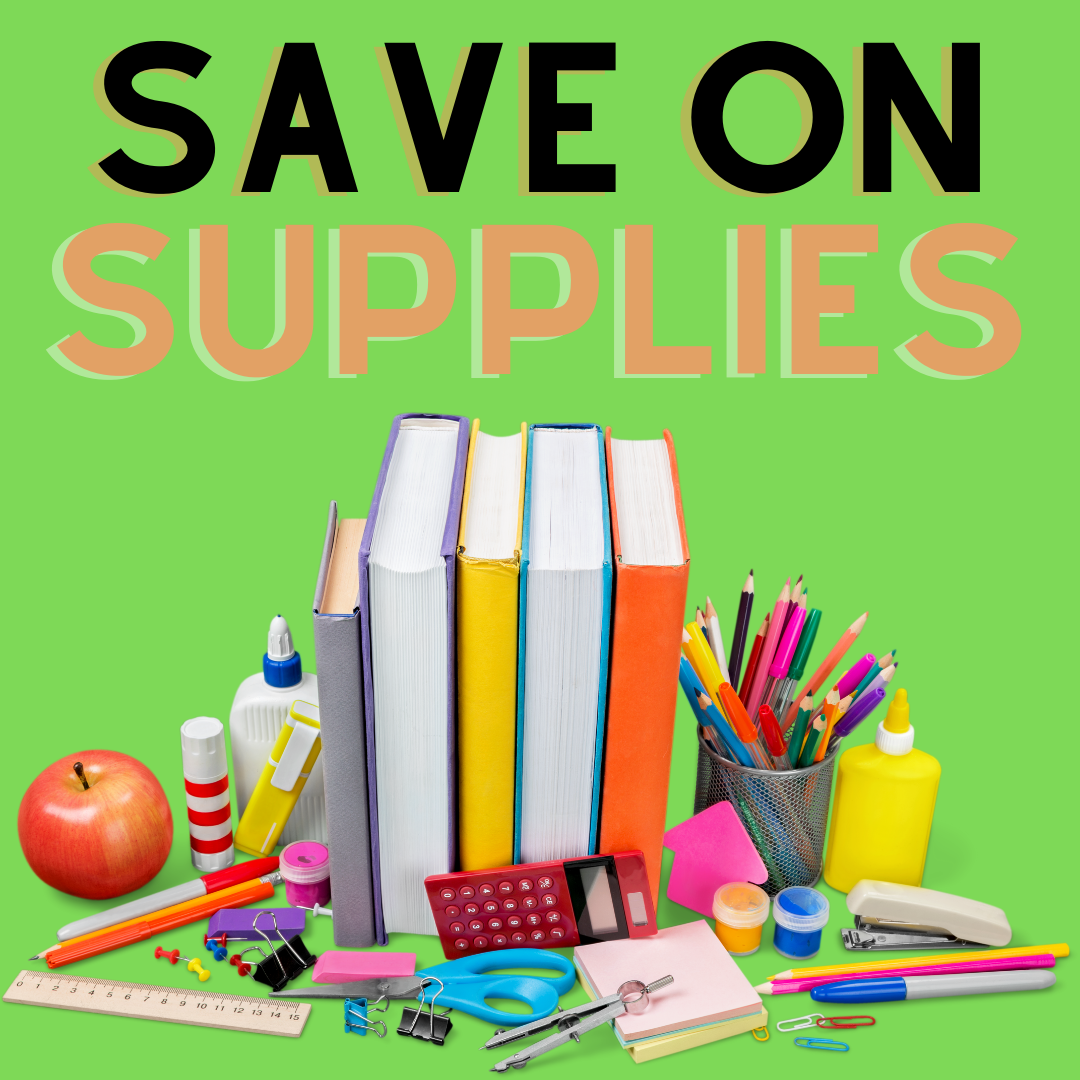 Wow! Where did the summer go? It seems like school just got out a few weeks ago and now it's already time to think about back-to-school shopping!
Don't let that list and the upcoming hit to your budget get you down. There are plenty of ways to get cheap school supplies. Let's look at our top tips for saving money on school supplies starting with the free ones!
1. Browse at Home First
How many promo pens and pencils do you have stuffed in a drawer someplace? Quite a few? There are the pens your kids can take to school! Plus, when they inevitably lose those pens, it won't be as frustrating because they were free.
Some supplies don't need to be rebought each year. Rummage around to find last year's items like calculators, rulers, pencil bags or boxes, and backpacks. Dust them off and they'll be as good as new to accompany your child to school!
2. Swapping Spree
Don't stop by just inventorying your house. Get together with friends, neighbors, and other kids in your child's class and have them do the same. It's likely that you'll have extras of something they are short on.
Families can swap their excess items to reduce waste and reduce their back-to-school shopping bills.
3. Make a List and Set a Budget
We've given you a couple of ideas of how to get stuff for free. Now it's time to make a list of what else is necessary.
There will be lots of things your kids will want that aren't absolutely necessary. Prioritize necessary items first and then add some of the wants that your kids have.
Take the opportunity to sit down with your kids and chat about the value of money. Show them the budget you have set to spend on school supplies and explain the limitations of what you can buy.
Inevitably, they will want more than just the basics but stick to your set budget. If they want anything extra, they can buy it themselves, or you both can get creative about reducing the amount you spend on the essentials. Keep reading for a few ways to do that.
4. Shop the Sales
Stores will offer ridiculous back-to-school shopping deals on certain items to get you in the store. For example, 10-cent crayons, 50-cent binders, etc. The point is to get you in the door because most people will get lazy and buy everything at one place.
Don't do that if you want to save money.
Examine the ads before you go shopping and create a plan of attack. At each store, only buy the things on sale.
5. Shop on a Tax-Free Holiday
Raise your hand if you love paying taxes!
No one…okay.
Then don't pay taxes on your school supplies by shopping on a tax-free holiday. Many states offer these around back-to-school time. Take advantage of this event for those big-ticket items like a new laptop, but buy all your supplies on the right day and you can save as much as 10% off your bill.
Keep in mind that these events usually apply for clothing and shoes and other items so be prepared for some serious savings.
6. Stay in the Zone and Buy Only the Things On Your List
Once you get in the store, there will be lots of banners, display stands, bright colors, and more vying for your attention. Their singular purpose is to get you to buy more than you planned on buying.
Put on your blinders and stick to your plan of attack. If you take your kids with you, be firm about only buying the things on your list.
You can choose to allow them one or two extra items or allow them to buy their own extras. Just make sure to tell them that before you walk into the store. If it sounds like you're making exceptions, they'll be incessant about everything they want.
7. Buy Quality Items
The whole point of this post is to save money on school supplies, but this is one spot where it makes sense to spend a little more.
Cheap items break easily and buying replacements usually ends up costing more in the long run. You'll have to drive to the store again and won't get to take advantage of the sales.
Invest in quality items, especially for things like backpacks that can be used for several years.
Of course, before sending your kids to school — label everything! That way, lost items are more likely to be found again.
Back-to-School Shopping…Go!
The little stuff like notebooks and colored pencils are easy to find at your local stores. But what about bigger ticket items like school furniture? Check out the amazing deals on school storage items here!
Learn More About Money Saving Tips with the CashFurther Community
Members receive exclusive access to helpful content-packed emails, a private Facebook group, online educational events, and more – all for FREE! Join today.