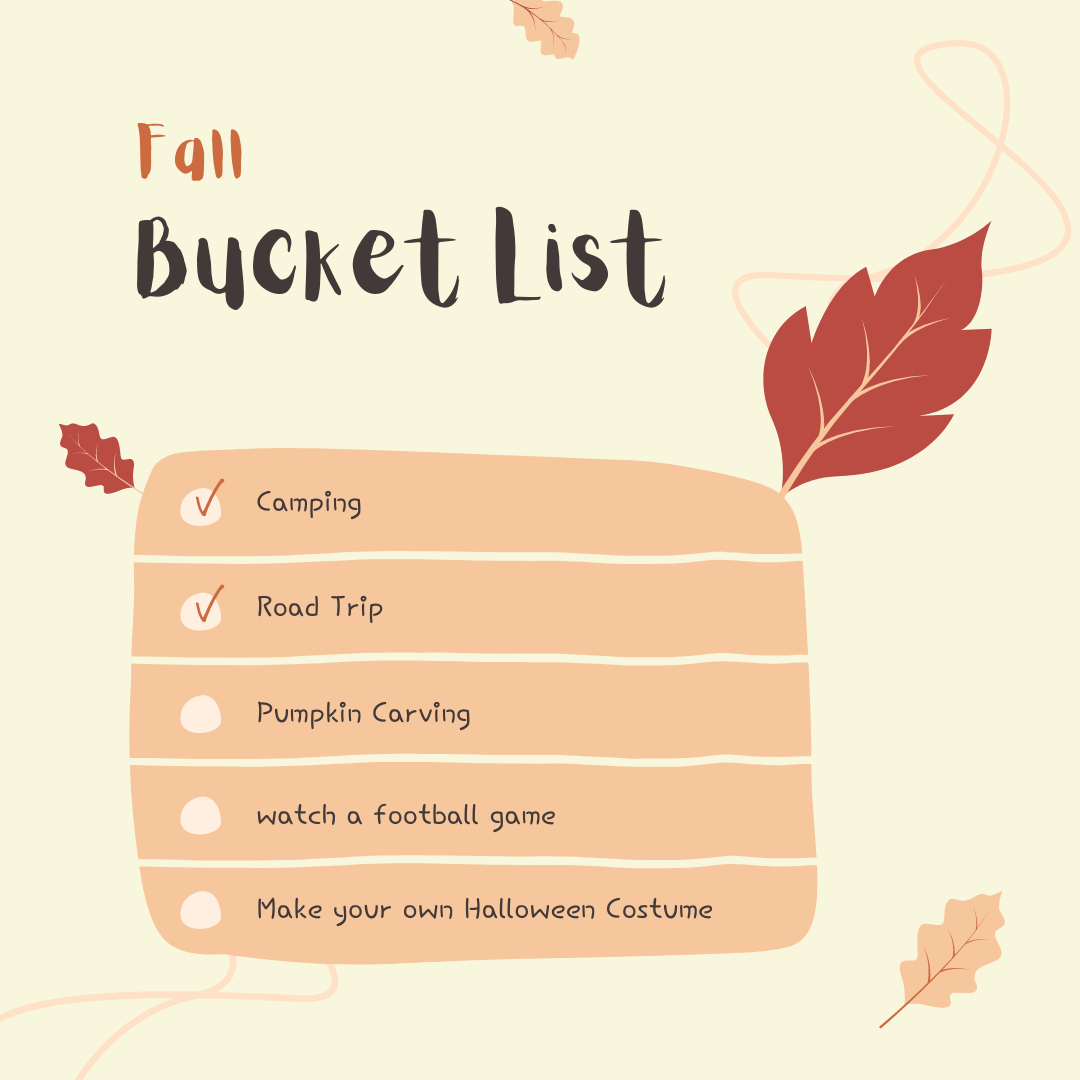 Autumn is officially upon us and soon the hustle and bustle of the holiday season will be here. But in the meantime, what are some fun things you can do with your loved ones during the fall? We made a fall bucket list just fo you.
We've rounded up a fantastic fall bucket list of must-do fall activities that you will absolutely love. The best thing is…they won't break the bank. Because no one has to spend a bunch of money to have fun, Check out these fall bucket list ideas here!
1. Go Camping
Winter is on the horizon and this is the last chance you'll have for a while to enjoy time outdoors without shivering the whole time. Make the most of it and take one last camping trip of the year.
Leave the iPads and Netflix behind and spend some time in nature. Scientists are discovering an ever-increasing list of physical and mental health benefits of spending time outdoors. Feeling skeptical? Just ask anyone who has spent some well-needed time in nature.
Worried about spending too much money on the trip? There are lots of places where you can camp for free!
National and state parks tend to be pricey, but you can camp in national forests, grasslands, and the Bureau of Land Management lands for free. You just have to be willing to forego amenities like bathrooms and showers.
2. Camp in Your Backyard
If camping in the wilderness is a little too adventurous for you, keep it closer to home. Camping in the backyard is also free and can be an exciting adventure. It also comes with a big bonus — it is accompanied by electricity and running water.
Regardless of where you camp, be sure to build up a nice fire, swap ghost stories, and roast marshmallows. There's something mesmerizing about watching the crackles and pops of the flames while enjoying that sticky, chocolatey goodness.
Couple that with spending time with your loved ones and this is an experience you won't soon forget.
3. Road Trip!
Camping might not be your thing, but a road trip might catch your fancy. Fall is a wonderful time for a family drive, particularly out in the country where the colorful fall leaves are on full display.
You can make it a day trip that will only cost you some gas, or book an inexpensive Airbnb in a nearby town. This is a particularly great idea if you can find a quaint little town nearby.
Go on a walking tour of the area, enjoying the fresh air and small-town atmosphere. Walk through the historic section to check out the old houses and wonder at days gone by. Stop in at the local cafe for a slice of homemade apple or blackberry pie.
You might be surprised at how relaxing it can be to get out of the hustle and bustle of the city for a little while.
4. Go Hiking
Autumn is the perfect time to go hiking. During summer, hiking gets really hot and sweaty. Fall weather is cool enough to make your trek pleasant, but not so cold that you're fighting numb toes and fingers.
Plus, when you get to the top, the colorful vista before you will make the hike more than worth it.
5. Participate in a 5K Walk/Run
Another great way to get exercise is to participate in a 5K walk/run. It's almost guaranteed there will be one going on somewhere nearby. Organizers like to take advantage of the pleasant fall weather for events like these.
The entrance fee for community race events is generally pretty low. Plus, many of these races are put on to raise money for a local non-profit. In that case, your entry fee will be tax-deductible.
Furthermore, you can help with the fundraising by encouraging others to participate in the race with you, or sponsor your ticket if they'd prefer.
Helping others is always rewarding and you get a fun day out of the deal as well!
6. Fall Festival
There is more than one way to party in the fall. From Oktoberfest to harvest parties to Halloween parties, there is something for everyone.
The entrance fees are usually pretty cheap, and some are even free to get in. You'll have to pay for refreshments, games, and candied apples, or you can just stroll around and enjoy the atmosphere.
For bigger savings, consider volunteering at the event or joining the organizing committee. Usually you'll get a few tickets as a thank you, plus the satisfaction of being a part of something that brings joy to others.
7. Make Your Own Halloween Costume
September is almost gone already and Halloween will be upon us before we know it! Get prepared (and save some money) by making your own Halloween costumes this year.
Storebought costumes can get pricey, especially if you want something that looks halfway decent. But your local thrift store is your friend when it comes to making your own costume. Get a little creative and you can craft something exquisite out of a few cheap thrift store finds.
Plus, you'll have a whole lot of fun with your family digging through the bins and browsing the racks, looking for the perfect materials. It's almost like you're on a search for buried treasure!
Wondering what kinds of costumes you could possibly find at a thrift store? Here's a big list of ideas to get you started!
8. Scary Movie Marathon
Planning to stay in on Halloween? Or maybe you're getting in the spirit before the big night comes. Regardless, having a scary movie marathon with your family can be frightful fun!
Get some fall delights like apple cider and pumpkin donuts to enjoy while watching witchy classics like Hocus Pocus or Ghostbusters.
9. Pumpkin Carving
Pumpkin carving is perhaps the quintessential fall activity. Start the adventure by taking the whole family to the supermarket to pick out their favorite pumpkin. You can pick up cheap carving kits almost anywhere this time of year. If you don't want to buy anything, kitchen knives, pocket knives, and any other sharp tools work for carving as well.
If you have small children, you might paint the pumpkins instead of carving them. Regardless, it's an inexpensive activity with a bonus — the finished products serve as decoration for Halloween!
Pro tip: don't throw away the seeds, save them to make roasted pumpkin seeds. They make a delicious snack to go with your movie marathon.
10. Make a Gratitude List
Thanksgiving is just around the corner, it doesn't hurt to sit down and think about the things you're thankful for. This activity doesn't cost a dime but the riches you receive from it are priceless.
Make it a fun time with your family. Take lunch to the park for one last picnic and make your lists there. Talk about the good things that have happened this year and the hopes you have for the next one.
No matter how much life knocks you down, there is always a reason to smile. Sometimes you just have to actively look for it.
We hoped you enjoyed this fall bucket list!
Learn More About Saving Money with the CashFurther Community
Members receive exclusive access to helpful content-packed emails, a private Facebook group, online educational events, and more – all for FREE! Join today.